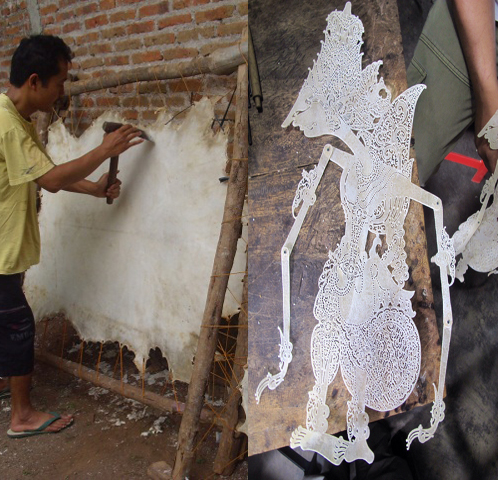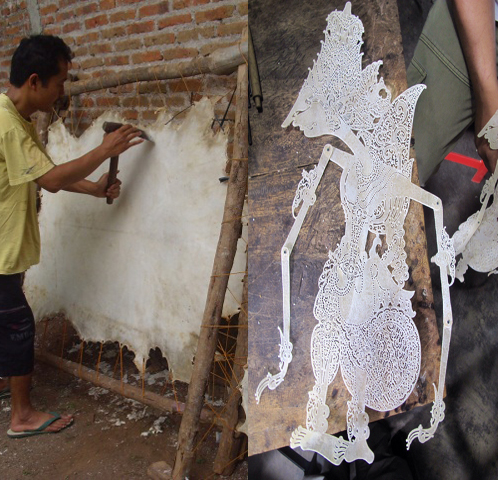 Handicraft industry is one sector which is quite popular among the people of Java, particularly in the area of tourism. Indonesia has a wealth of cultural and handicraft products are very various manifold. Handicraft products are many kinds of material, one of which is the skin. With a leather base material, can be used as a decorative art that makes a creative craft, can be a fan, wall hangings, calligraphy and the most famous is for Wayang Kulit puppets.
Wayang Kulit Puppet exist only in Indonesia and became one of the crafts of pride for culture Wayang Kulit has been recognized and well-known in the world of origin in Indonesia. Wayang kulit puppet making requires precision and patience are very high. Mastery of the work of making these puppets requires willingness and tenacity higher learning. They should also have a sense of love stories of wayang kulit. Wayang Kulit are Kraton Yogyakarta heritage that must be preserved and maintained in order to become the identity of the city of Yogyakarta and the Indonesian State.
Handicraft industry of leather, both for the manufacture of wayang kulit puppets also for home decoration, calligraphy and so forth, the longer growing. Handicraft industry is already well known to foreign tourists. In the province of Yogyakarta Special Region, precisely in the village of Karangasem, Wukirsari village, Bantul, many handicraft centers of the skin. In this area, almost 80% of its citizens have a profession as a craftsman carving decoration.
The process of manufacture of Wayang Kulit Puppets can be developed into a tourist Attractions because it requires the stages of manufacture unique and exciting to be a travel experience knowledge for everyone. We can find out how a wayang kulit puppets are made from basic materials (cowhide, buffalo or goat) until it becomes an puppets. The process of preparing the base material of the leather, ranging from materials processing to be ready to be formed (carved) into a wayang kulit puppets.
The process of making wayang kulit puppets (leather using raw materials), the stages are as follows:
Purchase Basic Materials Leather
The first one is how to look for as the manufacture of wayang kulit puppets. The leather used for the manufacture of these puppets are of two kinds, namely the Raw Leather and Leather Split.
Raw leather which is used as a raw material without chemical processes such as derived from leather processing plants. … Read the rest